$20.00
NZD
Category: Childrens Activity
Create 10 beautiful origami models with this Japanese Origami pack, which includes a 64-page book, plus 250 sheets of origami paper.   The 64-page instruction book guides you step by step through each project, including a crane, water lily, rabbit, decorative spheres, and more. Best of all, also inclu ded are 250 sheets of traditional origami paper to get you folding stunning creations straight away. All the basic folding techniques are also covered, so you will be able to create hundreds of models. ...Show more
$14.99
NZD
Category: Childrens Activity | Series: Tom Gates Ser.
Don't get bored - get busy! The must-have activity book for fans of Tom Gates: packed with drawing guides, fun games, brilliant puzzles and perfect pranks to play on older sisters - there's hours of fun ahead! Previously published in hardback in 2014 as The Brilliant World of Tom Gates Annual: now with added brand new pages from Liz.   ...Show more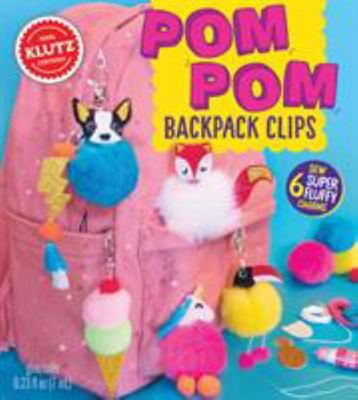 $24.99
NZD
Category: Childrens Activity | Series: Klutz
Make six pom-pom keychains from nine possible designs in this cute and colourful kit! The POM-POM BACKPACK CLIPS kit has clear instructions to help you make adorable and trendy keychains to hang on your bags or keys! Designs include: a cozy fox with fabulous faux fur, a magical and mystical unicorn and a super-cute ice-cream cone. The box contains: pom-poms embroidery thread felt sheets glitter foam keychain clips paper patterns sewing needle glue ...Show more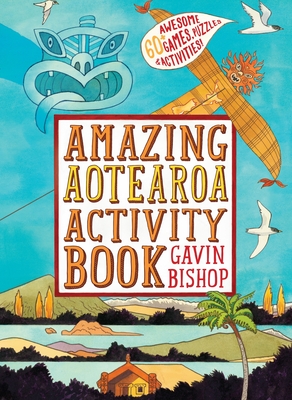 $25.00
NZD
Category: Childrens Activity
5 -12 Years Old. You'll have lots of creative fun with this book full of puzzles, quizzes and activities that explore Aotearoa New Zealand and its people. Based on Gavin Bishop's bestselling Aotearoa- The New Zealand Story and Wildlife of Aotearoa, this activity book is a place for you to tell your own story in words and pictures.You'll- learn to introduce yourself in Maori- solve puzzles and crack codes- play games- invent a superhero- draw your future home- make maps- curate your heroes in a wall of fame- design a flag- create a menuand much more!Packed with quizzes, mazes, colouring pages and activities designed to stimulate bright minds, this is the ideal activity book for creative children aged 5-12. ...Show more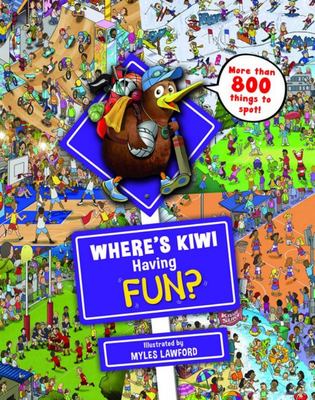 $21.99
NZD
Category: Childrens Activity
Kiwi loves sport and wants to get in amongst it! Spot Kiwi as he surfs the waves at a busy beach, sprints around the athletics track, skis the snowy slopes and scores a try on the rugby field. And among the crowds of sports fans, you'll also spot Kiwi's mates, such as Sporty Sheep, Tricky Tuatara, Gumbo ot Guy and Mystery Moa! ...Show more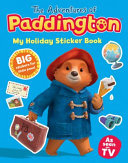 $8.99
NZD
Category: Childrens Activity | Series: Paddington TV Ser.
A fun-packed sticker book, based on the hilarious new animated TV series, The Adventures of Paddington, that is guaranteed to keep your toddler happy through the holidays! Aimed at 2-4 year olds, this great sticker book is packed with big stickers that are easy to pull off for little hands, colouring p ages and a range of fun puzzles and activities based on Paddington's TV adventures at 32 Windsor Gardens. This is the perfect holiday activity book for Paddington fans! ...Show more

$24.99
NZD
Category: Childrens Activity | Series: Klutz Ser.
Design your own trendy jewelry by melting magical plastic pellets with warm water. That's right, just using warm water! Then, mold them into a cute cactus, mystical moon, or any of the 19 stylish shapes included in the silicone mold. Create up to 50 charms and make 10 different projects: pendant neckla ces, rings, earrings and bracelets. Everyone will melt over how cute your creations are! Comes With: 50 polymer discs, 30 jump rings, Elastic cord in 2 colors, 2 cord necklaces, lobster clasp, ring blanks, glitter, rhinestones, stylus tool, silicone mold ...Show more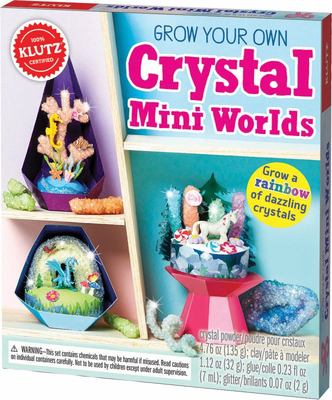 $24.99
NZD
Category: Childrens Activity | Series: Klutz
Grow your own magical mini worlds while exploring the science of minerals and crystal formation! Each kit includes materials needed to create 3 different dazzling projects: a dragon's cave, a unicorn's forest, and a seahorse's coral reef. You'll enchant your family and friends with your rainbow creation s! Comes With: 3 figurines, crystal powder, 4 colors of air-dry clay, 3 custom stands, 38 paper punch-outs, silver glitter, 4 pipe cleaners, 4 dye tablets, 2 craft sticks, 3.28 ft. nylon thread, glue ...Show more
$25.00
NZD
Category: Childrens Activity | Series: Klutz
Stickers never go out of style, and now you can give them your own flair with deluxe glitter, holographic foil, and colourful gems! This kit comes with more than 75 stickers full of super cute designs like rainbows, unicorns, narwhals, and aliens with glitter, gold, or pretty pastel accents.

$24.99
NZD
Category: Childrens Activity | Series: Klutz | Reading Level: From 8
Making mistakes has never been this much fun! Sculpt your very own creations with eraser clay, and then bake them in the oven to make absolutely adorable, slightly squishy erasers that really work. With 8 bright colors of clay and 35 eraser designs to choose from, you'll never have to worry about making an error again. Make no mistake, this kit is fun for the whole family! Comes With: 8 colors of eraser clay,1 pencil, clay shaping tool, 2 sheets of papercraft displays ...Show more
$29.99
NZD
Category: Childrens Activity | Series: Klutz | Reading Level: From 8
Teach your bricks new tricks! In the Controlled Chaos Department of Klutz Labs, we're big fans of Rube Goldberg's amazing machines. What could be more Klutzy than a machine that accomplishes a simple task through an elaborate chain reaction? The answer, of course, is a wacky chain reaction built of LEG O bricks. A perfect companion to our best-selling LEGO Crazy Action Contraptions, this all-new book will blow the mind of anyone who enjoyed playing Mouse Trap or setting off a row of dominoes. To turn bricks from kids' own LEGO collection into ball-moving machines, all they need is LEGO Chain Reactions - along with the cardstock ramps and other punch-out parts, plastic LEGO balls, and 33 essential, hard-to-find LEGO pieces packed inside. A team of experts, educators, and 11-year-olds helped us invent machines that swing, bounce, and spring in ways that only LEGO bricks can. Follow our instructions to build the Flag-Waving Marble Kicker, the Barbell Spinner, and more. Kids will even learn solid building techniques and the physics behind the fun. Each machine forms one step in a customizable chain reaction. One thing leads to another, and another, and another, until at last you turn on the light, ring the dinner bell, flip a coin, or accomplish some other ordinary task in an extraordinary way. Rube Goldberg would be proud. Comes with: 80-page book of instructions, 33 LEGO pieces, instructions for 10 modules, 6 plastic balls, string, paper ramps and other components. ...Show more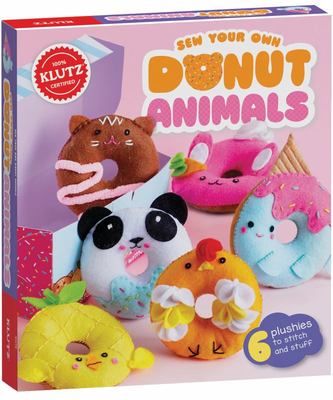 $29.99
NZD
Category: Childrens Activity | Series: Klutz
Sew up a half dozen super sweet donuts full of adorable animal personality! The kit comes with everything you need (even a donut box!) to whip up adorable felt plushies. The crystal-clear instructions go through all the steps -- from threading a needle and practicing stitches to adding fancy toppings an d decorations -- so when you finish, you'll be a master donut maker! Each donut has its own flavorful personality: a chocolate kitty, cookies & cream panda, a blueberry narwhal, a cinnamon chicken, a strawberry bunny, and a pineapple parrot. Display them in the donut box to keep them fresh! Comes with: 66 pre-cut felt pieces in 11 colors, pre-cut felt cheeks, pre-cut felt eyes, stuffing, embroidery floss in 8 colours, 2 needles, fuzzy yarn, donut box. ...Show more