$24.99
NZD
Category: Craft and Hobbies | Series: Millie Marotta Ser.
Go into the woods with Millie Marotta The New York Times bestselling artist has created a stunning coloring book filled with forest-dwelling creatures.   In the sixth installment of her wildly popular coloring book series, Millie Marotta takes us through the woodlands of the world. More than 90 intricat e drawings of beautiful forest-dwelling creatures will delight colorists and spark their creativity. Millie's enticing flora and fauna include an adorable napping fox, little owl, Japanese pygmy woodpecker, peacock, badger, and polecat, along with whimsical ginkgo leaves, blossoming flowers, and tropical seeds and fruits that spill invitingly across the pages. ...Show more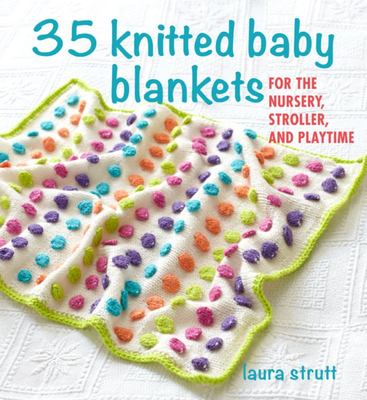 $29.99
NZD
Category: Craft and Hobbies
News of a new arrival always brings about a flurry of activity. Show your love and devotion by hand-knitting a beautiful baby blanket they can cherish.   From the first car journey to an outing in a stroller, a knitted blanket will accompany a baby wherever they go. Laura Strutt has designed a teddy b ear travel blanket that cleverly folds away into a pillow and a hooded wrap for keeping cozy in a sling. For the nursery there is a soft cot cover and a dungaree-style sleeping bag in breathable merino wool--perfect for a peaceful night's rest. For playtime, there's a cotton-backed blanket that can double up as a rug to take out and about, and a tiny comforter blanket guaranteed to become their closest companion. With beautiful yarns, simple techniques, and stunning designs, there is a blanket here ready for you to make and for the new arrival to treasure for years to come. ...Show more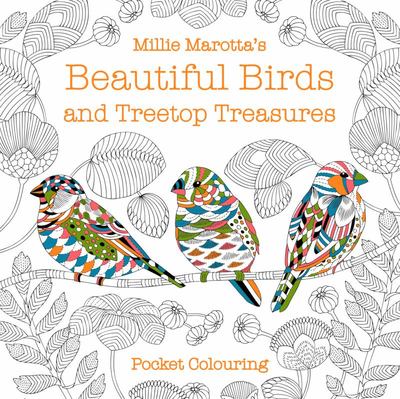 $12.99
NZD
Category: Craft and Hobbies | Series: Millie Marotta Ser.
A wonderful portable edition of Millie Marotta's Beautiful Birds and Treetop Treasures from the the Sunday Times and international bestseller Millie Marotta. Enter Millie's wonderful world of treetop treasures and discover the birds nesting and flying high up in the treetops, and the myriad creatures f ound among the branches. The enchanting illustrations to colour in range from Major Mitchell's cockatoo and rose robins, to the magnolia warbler, silver-eared mesia and whiskered treeswift. As well as the beautiful birds of the world, Millie's intricate designs show the more unusual creatures residing in the treetops, such as the Amazonian milk frog, the sugar glider or the tree-kangaroo. Millie's inimitable style is treasured by thousands around the world and in this  exciting book there are all sorts of creatures and fauna waiting to be coloured in, from tiny insects to winged beasts and scaled reptiles to buds and blossoms. The world's rainforests, woodlands and thickets are teeming with life and this book guarantees hours of relaxation and colouring fun.   ...Show more
$24.99
NZD
Category: Craft and Hobbies | Series: Millie Marotta Ser.
A rich collection of Millie's best brilliant beasts from her five bestselling colouring books: Animal Kingdom, Tropical Wonderland, Wild Savannah, Curious Creatures and Beautiful Birds and Treetop Treasures. A menagerie of animals that dazzle with their presence or sometimes because of their cleverness and ability to carve out a life in a hazardous world - but all brilliant beasts. From the amazing giraffe to the astute anteater, from the proud lion to the slow but thoughtful sloth. This bumper edition has 120 illustrations that showcase the most wondrous creatures in Millie's inimitable decorative style. With 8.5 million books sold, Millie Marotta is one of the most popular colouring book illustrators in the world. This is an essential edition for all Millie Marotta fans, and for those looking to discover her much-loved illustrations for the first time.   ...Show more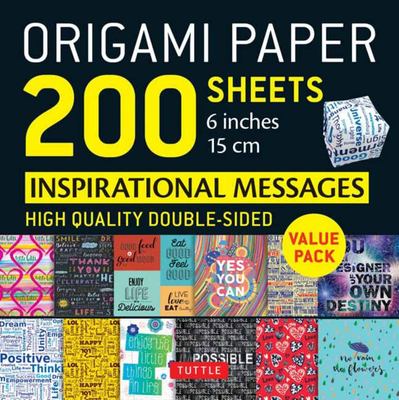 $14.99
NZD
Category: Craft and Hobbies
This pack contains 200 high-quality origami sheets printed with uplifting Inspirational Message Patterns. These illustrations were chosen to enhance the creative work of origami artists and paper crafters. The pack contains 12 patterns unique to this pack, and all of the papers are printed with coordina ting colors on the reverse side to provide aesthetically pleasing combinations in origami projects that show both the front and back of the papers. This origami paper pack includes: 200 sheets of high-quality origami paper12 unique designsVibrant and bright colorsDouble-sided colorSmall 6 x 6 inch squaresInstructions for 8 easy origami projects ...Show more

$12.99
NZD
Category: Craft and Hobbies
This pack contains 300 high-quality origami sheets printed with colorful Nature Photo Patterns. These illustrations were chosen to enhance the creative work of origami artists and paper crafters. The pack contains 12 patterns unique to this pack, and all of the papers are printed with coordinating color s on the reverse side to provide aesthetically pleasing combinations in origami projects that show both the front and back of the papers. This origami paper pack includes: 300 sheets of high-quality origami paper12 unique designsVibrant and bright colorsDouble-sided colorSmall 4 x 4 inch squares ...Show more

$19.99
NZD
Category: Craft and Hobbies
Fingerless gloves have burst onto the fashion scene in recent years--with designers from Gucci to Kate Spade embracing this popular style. Now home knitters can create personalized fingerless gloves using original Japanese knitting patterns.   From the editors of Nihon Vogue--the Japanese publisher of worldwide knitting bestsellers by Hitomi Shida, Yoko Hatta, Keiko Okamoto and other top knitting designers--Easy Knitted Fingerless Gloves presents an updated take on a favorite cool weather accessory with classic patterns like Fair Isle, Aran, cables and knit-and-purl, all knitted using Japanese charts and techniques.   Among the 21 patterns in this book you'll find: Fair Isle-patterned gloves with lacy cuffs A pair of slouchy, lightweight arm warmers Cozy picot-finished gloves with loop-stitched cuffs Elegant beaded mohair cuffs And more The colorful patterns and classy neutrals offer something for every personal style and level of coziness. A few basic lessons--aimed at those who already have some knitting experience--and a step-by-step guide to the Japanese knitting symbols help simplify the process.   Easy Knitted Fingerless Gloves brings knitters everywhere a step closer to Japan's much-loved styles and techniques. Once you get started, making these beauties will be as addicting as wearing them ...Show more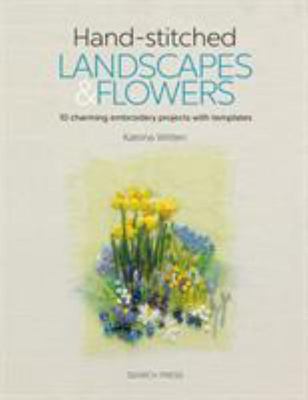 $49.99
NZD
Category: Craft and Hobbies
Create beautiful landscapes and flowers using handstitching and only six simple stitches. Handstitched Landscapes and Flowers is a beautiful exploration of the potential of embroidery in depicting the natural world. Katrina Witten, who is a regular on crafts channel Hochanda, uses just six simple stitch es, delicate embellishments and an array of techniques and fabrics to portray pastoral scenes of fields, flowers and creatures with eye-catching three-dimensional effects. There are ten detailed step-by-step projects that depict, among others, a hedgerow, a bluebell-emblazoned woodland, sunflowers, a butterfly, a poppy field and a summer scene of buddleia and bees. ...Show more
$24.99
NZD
Category: Craft and Hobbies
Step into a world of daring knights, brave princesses and fire breathing dragons   Bestselling origami artist Joel Stern has created this engaging new kit to spark children's imaginations and keep them playing happily for hours without a computer screen. The easy-to-follow instructions and colorful f olding papers in My First Origami Fairy Tales Kit make it easy to create your favorite characters and use them to tell stories.   Kids will have fun folding up the characters and applying dozens of fairy tale stickers to add finishing touches to their models. The characters can be moved around in front of the included story backdrops to reenact classic stories--or even to set off on brand new adventures   This kit includes: 36 folding sheets for 11 different characters that are easy for young kids to fold 6 interchangeable story backdrops 85 stickers to use in decorating the characters and backdrops A full-color book explaining the stories and showing you how to fold the models The materials in this kit play up a child's own natural storytelling ability and imagination, using characters like the following: The chivalrous Knight who comes complete with a gleaming sword and a shield--and a good thing, too, because a nasty Dragon awaits A fearless Princess who can sport any of four different dresses--perfect for daily use around the castle, yet rugged enough to contend with a marauding Witch The crafty Gnome conjures up a brimming, glittering bag of gold, but a brutish Ogre is in hot pursuit to seize it A cunning Wolf spies on an unsuspecting Pig--but let's hope Piggy has built his house with bricks to keep the Wolf out This origami for kids kit is sure to inspire hours of play time, while also allowing kids to improve dexterity and learn about geometry (without them ever realizing it ) thanks to the practice of folding origami. ...Show more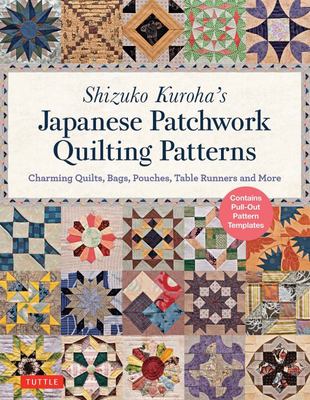 $32.99
NZD
Category: Craft and Hobbies
Shizuko Kuroha's Japanese Patchwork Quilting Patterns infuses a cherished American craft with an exquisite Japanese sense of color, detail, and design. This book brings a fresh eye to classic patchwork patterns in a way that is delighting quilters all around the world today. Here, Kuroha shares her intr icate hand-quilting techniques and a design sense that has been refined over her 40-year career as a celebrated book author and teacher. Her easy combinations of soft colors, detailed patterns, and bold stripes show how to achieve balance and flow in any type of patchwork project--from the simplest to the most complex.   Step-by-step illustrations walk quilters through Kuroha's intricate hand-piecework process. The book includes 19 sampler blocks used to make hundreds of different combinations for all kinds of quilting projects. The photos and diagrams of the block assembly are so clear, you hardly need to read the steps A handy pull-out pattern sheet at the back of the book takes the labor out of drawing the pieces used to build these blocks.   Detailed instructions show you how to incorporate the blocks into projects large and small, including: Pincushions in round and square designs Drawstring bags and zippered pouches embellished with patchwork Quilted tote bags and a stylish backpack Table runners and wall hangings with gorgeous color schemes Full-sized quilts destined to become cherished heirlooms This book is an invaluable introduction to the basics of hand-stitched piecework. Practiced quilters will also love it for the way it broadens their horizons. Kuroha fans will be happy to see this popular book finally available in English--where it's sure to become a treasured reference for years to come ...Show more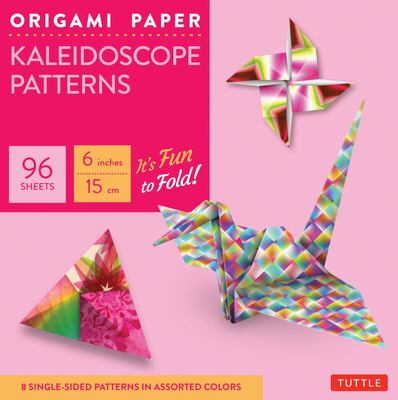 $9.99
NZD
$12.99
(23% off)
Category: Craft and Hobbies
This pack contains 96 high-quality origami sheets printed with 8 colorfully wild kaleidoscope patterns. These striking patterns were chosen to enhance the creative work of origami artists and paper crafters. There's enough paper here to assemble amazing modular origami sculptures, distribute to students for a class project, or put to a multitude of other creative uses. This origami paper pack includes: 96 sheets of high-quality origami paper 8 colorful kaleidoscope designs and patterns Small 6x6 inch squares Instructions for 7 easy projects ...Show more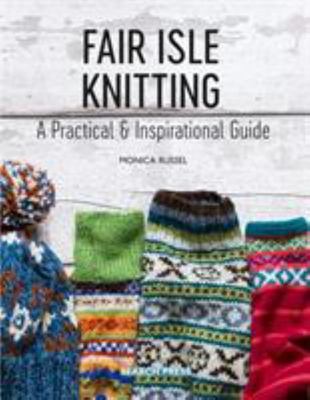 $37.99
NZD
Category: Craft and Hobbies
The definitive book to learning Fair Isle knitting by expert knitter, teacher and founder of The Knit Knacks, Monica Russel, featuring 60 pattern swatches and beautiful, practical projects to test your new-found skills. Fair Isle knitting has a timeless appeal, and is celebrated all over the world for i ts beautiful patterns and distinctive motifs. Using just two colours in each row you can create a myriad of different patterns that are deceptively easy to achieve. In this definitive guide, expert knitting designer and best-selling author Monica Russel teaches you the essential skills of this traditional colourwork technique and provides all the inspiration you need to create stunning Fair Isle patterns of your own. The book includes a fascinating history of Fair Isle knitting, and takes a close look at the yarns, needles and other tools you need to get started in colourwork.There are step-by-step instructions on the key techniques for creating Fair Isle patterns, including choosing colours and using charts, all illustrated with step-by-step photographs and an abundance of colourful examples.A stunning collection of pattern swatches provides inspiration and instruction for over 60 borders, patterns and motifs, all accompanied by a written pattern, chart and examples in various colourways.To practice your new skills, there are 11 complete projects, ranging from a simple hat, a cushion and a bag through to a shawl, a sweater, socks, and a child's dress. ...Show more