$14.99
NZD
Category: Maps | Series: Map Ser.
From Lonely Planet, the world's leading travel guide publisher Durable and waterproof, with a handy slipcase and an easy-fold format, Lonely Planet's Wales Planning Map helps you get around with ease. Get more from your map and your trip with images and information about top attractions, itinerary sugge stions, a transport guide, planning information, themed lists and practical travel tips. Durable and waterproof Easy-fold format and convenient size Handy slipcase Full colour and easy to use Before-you-go info Beautiful imagery Tailored itineraries Can't-miss regional highlights Detailed town index Transport planner Themed lists Covers Cardiff, Brecon Beacons, Swansea, the Gower, Carmarthenshire, Pembrokeshire, Aberystwyth, Snowdonia, Anglesey and more Looking for more in-depth coverage? Check out Lonely Planet's Wales, our most comprehensive guide to the country featuring its top sights and most authentic offbeat experiences. About Lonely Planet: Lonely Planet is a leading travel media company and the world's number one travel guidebook brand, providing both inspiring and trustworthy information for every kind of traveller since 1973. Over the past four decades, we've printed over 145 million guidebooks and grown a dedicated, passionate global community of travellers. You'll also find our content online, and in mobile apps, video, 14 languages, nine international magazines, armchair and lifestyle books, ebooks, and more. 'Lonely Planet. It's on everyone's bookshelves; it's in every traveller's hands. It's on mobile phones. It's on the Internet. It's everywhere, and it's telling entire generations of people how to travel the world.' -- Fairfax Media 'Lonely Planet guides are, quite simply, like no other.' - New York Times ...Show more
$14.99
NZD
Category: Maps | Series: Map Ser.
From Lonely Planet: The world's number one travel guide publisher* Durable and waterproof, with a handy slipcase and an easy-fold format, Lonely Planet's New Zealand's North Island Planning Map helps you explore with ease. Get more from your map and your trip with images and information about top attrac tions, itinerary suggestions, a transport guide, planning information, themed lists and practical travel tips. With this easy-to-use, full-colour map in your back pocket, you can truly get to the heart of New Zealand's North Island - so begin your journey now Durable and waterproof Easy-fold format and convenient size Handy slipcase Full colour and easy to use Before-you-go info Beautiful imagery Tailored itineraries Can't-miss regional highlights Detailed town index Transport planner Themed lists Covers: New Zealand's North Island Looking for more extensive coverage? Check out Lonely Planet's New Zealand's North Island, our most comprehensive guidebook detailing the North Island, covering the top sights and most authentic offbeat experiences. Or check out Lonely Planet's Best of New Zealand, a concise visual guide highlighting the top experiences across the country. About Lonely Planet: Lonely Planet is a leading travel media company and the world's number one travel guidebook brand, providing both inspiring and trustworthy information for every kind of traveller since 1973. Over the past four decades, we've printed over 145 million guidebooks and grown a dedicated, passionate global community of travellers. You'll also find our content online, and in mobile apps, video, 14 languages, nine international magazines, armchair and lifestyle books, ebooks, and more. 'Lonely Planet guides are, quite simply, like no other.' - New York Times 'Lonely Planet. It's on everyone's bookshelves; it's in every traveller's hands. It's on mobile phones. It's on the Internet. It's everywhere, and it's telling entire generations of people how to travel the world.' - Fairfax Media (Australia) *Source: Nielsen BookScan: Australia, UK, USA, 5/2016-4/2017 ...Show more
$14.99
NZD
Category: Maps | Series: Map Ser. | Reading Level: General Adult
From Lonely Planet, the world's leading travel guide publisher Durable and waterproof, with a handy slipcase and an easy-fold format, Lonely Planet France Planning Mapis your conveniently-sized passport to traveling with ease. Get more from your map and your trip with images and information about top c ountry attractions, itinerary suggestions, a transport guide, planning information, themed lists and practical travel tips. With this easy-to-use, full colour navigation tool in your back pocket, you can truly get to the heart of France, so begin your journey now Durable and waterproof Easy-fold format and convenient size Handy slipcase Full colour and easy-to-use Before-you-go info Beautiful imagery Tailored itineraries Can't-miss regional highlights Detailed town index Transport planner Themed lists Covers Paris, Champagne, Burgundy, Loire Valley, D-Day beaches, Brittany, Normandy, Bordeaux, Dordogne, Languedoc, Pyrenees, Marseille, Provence, French Riviera, Nice, Lyon, Grenoble, French Alps, Strasbourg, Colmar, Metz Check out Lonely Planet France, our most comprehensive guidebook to the country, covering the top sights and most authentic off-beat experiences. Or check out Lonely Planet Best of France, a handy-sized guide focused on the can't-miss experiences for a quick trip. About Lonely Planet: Since 1973, Lonely Planet has become the world's leading travel media company with guidebooks to every destination, an award-winning website, mobile and digital travel products, and a dedicated traveller community. Lonely Planet covers must-see spots but also enables curious travellers to get off beaten paths to understand more of the culture of the places in which they find themselves. The world awaits Lonely Planet guides have won the TripAdvisor Traveler's Choice Award in 2012, 2013, 2014, 2015, and 2016. 'Lonely Planet. It's on everyone's bookshelves; it's in every traveller's hands. It's on mobile phones. It's on the Internet. It's everywhere, and it's telling entire generations of people how to travel the world.' -- Fairfax Media 'Lonely Planet guides are, quite simply, like no other.' - New York Times ...Show more
$14.99
NZD
Category: Maps | Series: Map Ser. | Reading Level: General Adult
From Lonely Planet, the world's leading travel guide publisher Durable and waterproof, with a handy slipcase and an easy-fold format, Lonely Planet Great Britain Planning Mapis your conveniently-sized passport to traveling with ease. Get more from your map and your trip with images and information abou t top country attractions, itinerary suggestions, a transport guide, planning information, themed lists and practical travel tips. With this easy-to-use, full colour navigation tool in your back pocket, you can truly get to the heart of Great Britain, so begin your journey now! Durable and waterproof Easy-fold format and convenient size Handy slipcase Full colour and easy-to-use Before-you-go info Beautiful imagery Tailored itineraries Can't-miss regional highlights Detailed town index Transport planner Themed lists CoversLondon, Canterbury, Cambridge, Oxford, Cotswolds, Stratford-Upon-Avon, Stonehenge, Bath, Bristol, Cornwall, York, Lake District, Liverpool, Pembrokeshire, Cardiff, Brecon Beacons, Snowdonia, Edinburgh, Glasgow, Scottish Borders, Skye, Mull, Glen Coe, Northwest Highlands Coast, Scotland's whisky distilleries Check out Lonely Planet Great Britain, our most comprehensive guidebook to the country, covering the top sights and most authentic off-beat experiences. Or check out Lonely Planet Best of Great Britain, a handy-sized guide focused on the can't-miss experiences for a quick trip. About Lonely Planet: Since 1973, Lonely Planet has become the world's leading travel media company with guidebooks to every destination, an award-winning website, mobile and digital travel products, and a dedicated traveller community. Lonely Planet covers must-see spots but also enables curious travellers to get off beaten paths to understand more of the culture of the places in which they find themselves. The world awaits! Lonely Planet guides have won the TripAdvisor Traveler's Choice Award in 2012, 2013, 2014, 2015, and 2016. 'Lonely Planet. It's on everyone's bookshelves; it's in every traveller's hands. It's on mobile phones. It's on the Internet. It's everywhere, and it's telling entire generations of people how to travel the world.' -- Fairfax Media 'Lonely Planet guides are, quite simply, like no other.' - New York Times ...Show more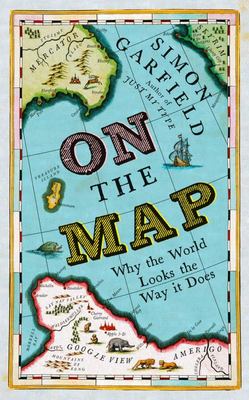 $37.00
NZD
Category: Maps | Reading Level: very good
Maps fascinate us. They chart our understanding of the world and they log our progress, but above all they tell our stories. From the early sketches of philosophers and explorers through to Google Maps and beyond, Simon Garfield examines how maps both relate and realign our history. His compelling narra tives range from the quest to create the perfect globe to the challenges of mapping Africa and Antarctica, from spellbinding treasure maps to the naming of America, from Ordnance Survey to the mapping of Monopoly and Skyrim, and from rare map dealers to cartographic frauds. En route, there are 'pocket map' tales on dragons and undergrounds, a nineteenth century murder map, the research conducted on the different ways that men and women approach a map, and an explanation of the curious long-term cartographic role played by animals. On The Map is a witty and irrepressible examination of where we've been, how we got there and where we're going. ...Show more
Items per page:
1 - 5 of 5